Connecticut NEAETC Regional Partner Team
Lydia Aoun-Barakat, MD, AAHIVS

Principal Investigator

Dante Gennaro, Jr.

Program Director

Merceditas Villanueva, MD, AAHIVS

Senior Faculty

Sheela Shenoi, MD, MPH

Practice Transformation Clinical Faculty

Sharen McKay, PhD

Curriculum Development and Program Evaluation

Amber Lenihan

Senior Administrative Assistant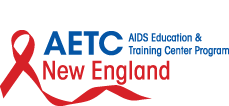 The New England AIDS Education and Training Center (NEAETC), provides HIV/AIDS education, consultation, technical assistance, and resource materials to health care professionals throughout Connecticut, Maine, Massachusetts, New Hampshire, Rhode Island, and Vermont.
If you would like to contact Connecticut Partner, please complete this form and one of our team members will contact you shortly.
We have engaged in 134 training events​ during 2018-2019 in the following locations across Connecticut (map on the left), and had 2100 individuals participate in the training sessions organized by us during 2018-2019 (map on the right).